---
EctoParty Wuppertal - HR drawings
---
Following are some pictures that the visitors of the EctoParty on 30-Jul-95 in Wuppertal created. They are based on the wonderful Happy Rhodes cut-out doll that Happy herself created for the Rhodeways fanzine.
It was amazing to discover the boost of creativity those folks developed, and the results are really excellent. So, after Happy had a chance to see all those pictures coming out of AG's fax machine, it's now your turn.
Enjoy!
- Klaus (klaus@inphobos.wupper.de)
---
(1)
(2)
(1) Warpaint created by Claudia Spix
(2) Wrapped Happy created by Wolfgang T. Ullwer
In the tradition of Christo and Jean-Claude who wrapped the Berlin Reichstag recently, I tried to wrap Happy - but the blue ropes didn't pass the fax...
---
(3)
(4)
(3) untitled created by Chip Lueck
(4) untitled created by Ilka Heber
---
(5)
(5) untitled created by Ilka Heber
---
(7)
(7) Equipoise created by Ilka Heber
---
(6)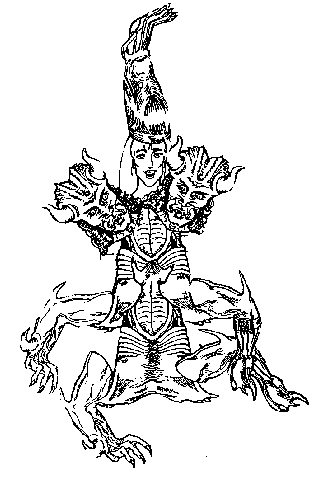 (6) untitled created by Peter Wright
---
(8)
(8) If you can't beat them created by Peter Wright
---
(9)
(9) Babooshka created by Uli Grepel
---
(10)
(10) untitled created by Klaus Kluge
---
(11)
(11) Happy on Planet Music created by Matthias Menk and Andrea Stock
---
Find the difference!
PAY ATTENTION! This is the ORIGINAL "Happy-Rhodes-Intelligence-Test"! Our painter has tried to copy this picture of Happy, but unfortunately some mistakes sneaked in. Now it's your turn: Help him find the mistakes and - by doing this - check out your intelligence! Here's how to go: Just mark every mistake you see with a cross (X) and count them when you're finished. Then compare your number of crosses to the following list.
0-3 : How about some new glasses?!
4-987 : Congratulations! You are as intelligent as a toothbrush!
988-3.458.578 : WOW!
(12)
ATTENTION: This is no proposal to change your styling, Happy!
(12) Find the difference! created by Matthias Menk and Andrea Stock