Hi, thank you for visiting my Happy Rhodes song samples page. If you haven't heard Happy's music, I think you're in for a treat. If you've only heard a few songs or one or two albums, you have a lot of great music ahead of you. If you like what you hear, please spread the word. Happy's an independent artist, and well-worth supporting. Word of mouth always helps.



Most of Happy's albums can be bought from her at her official web site, http://www.auntiesocialmusic.com (link opens in a new window). If you're new to Happy and like her, please go to her web site and buy directly instead of going to ebay. Sure ebay is cheaper, but you're giving the money to some random dealer instead of the struggling independent artist who needs it more. If the lure of ebay is too great (and I understand about that), please consider buying other albums from her in the future.
Some albums are very close to being out-of-print and are sometimes being sold for insane prices on Amazon and ebay. Don't fall into that trap. Go to Happy first and get them for a normal price. If she's out of stock I don't know what to tell you. You can download most of the music here until she can afford more pressings.
Disclaimer: I have no professional or financial dealings in Happy's career. My interest is strictly personal, as a long-time fan. Happy knows about this page and is cool with it. She understands why I do it and doesn't mind. She knows I've been sharing her music with others since 1988 and will keep on doing so and she approves. I have faith that people who are interested in her music will support her as an indie artist. Those who don't, wouldn't have whether they'd heard the music or not.
If you doubt, here's Happy's blessing, in writing:

Vickie Mapes has the exclusive permission, (with the
exception of myself) to share mp3 files of the music of
Happy Rhodes in whatever context she sees fit.
The only exceptions to this rule have been discussed
between myself and Vickie and will be honored.
No one else has this right or permission.
Happy Rhodes
Friday, 18 Mar 2005
Anyone with questions about the authenticity of that should go to Happy's official web site and e-mail her from there to ask her (Update: link is now defunct but seriously, I'll get you in touch with her if you really want to challenge this. Just write me (note: you'll have to manipulate the address before you send it. Look at it closely.).
Here's a Happy Rhodes fan page
Happy's lyrics can be found at the Ecto Home Page (page opens in a new window)
I love all of these songs, but generally my favorites are the first couple of songs. If you're new to Happy you should find out soon enough if our tastes are compatible. If you think there are a lot of songs here, believe me, I left out dozens that I dearly love. It was painful too.
All the songs on my site are full-length except for these from Find Me. Full songs can be heard at the Find Me YouTube page, and the album is available at CD Baby and iTunes.
2007 Find Me

1998 Many Worlds Are Born Tonight

This album is available at CD Baby (CD and mp3s) and iTunes.
1995 The Keep
(compilation of acoustic tracks and rarities)

This album is available at CD Baby (CD and mp3s) and iTunes.
1994 Building the Colossus

1993 Equipoise

1993 RhodeSongs
(compilation including live versions and rarities)

This album is available at CD Baby (as mp3s downloads only) and iTunes.
1991 Warpaint

1987 Ecto

1986 Rearmament

1986 Rhodes II

This album is available at CD Baby (as mp3s downloads only) and iTunes.
1986 Rhodes I


These were taken at the Tin Angel in Philadelphia, PA on October 12, 1996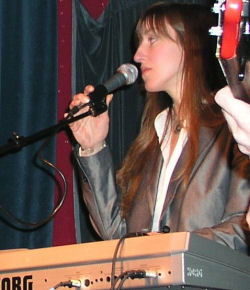 The first picture was taken by me at the Tin Angel in Philadelphia on January 29, 2005
The second photo was taken by Jeff Wasilko (I think) at meth&woj's House Concert in New Haven, CT on April 6, 2003.
I love that photo of Kate Bush, one of Happy's biggest influences, in the background.

These pictures were stolen from Happy's web site
If you have any questions, I may or may not be able to answer them, but I'll try. My name is Vickie and you can write me here (note: you'll have to manipulate the address before you send it. Look at it closely.)